Roll over image to zoom in
Description
Iskra MAHLE Winch Motor
These winch motors have been making a name for themselves on the comp scene over the last few years and they made their presence felt at Ironman 4x4 Adventure Challenge being fitted to 4 out of 10 cars. 
They are making themselves at home on winchtruck & super tourers around Australia with competition vehicles running them in QLD, NSW, WA & VIC events.
They are a direct replacement for Warn 4.6 & 6hp & Bow2 motors. They have also proved themselves reliable when overvolting (running on 24V) so if performance & reliability matter then these are the winch motors for you. These motors have an IP44 rating
A bit of history about Iskra, in 2012, the Slovenian auto electrical company Iskra Avtoelektrika changed its brand name to Letrika. There continuous product development earned the recognition of the profession. Letrika is a member of the MAHLE group since 2014 and use MAHLE Letrika brand name since 2015 and are now branded MAHLE.
MAHLE is a world leader in automotive components and are supply original equipment to many of the world's leading car manufactures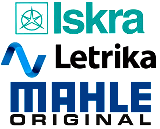 Specifications
Voltage
12V
Kilowatt
1.6kW
Rotation from D/End
CW/CCW
C-C Mounts
90mm
Mount Flange Diameter
 
Case Mount ID
98mm
Case OD
112mm
Overall Length
227mm
Case to End Shaft
60mm
Shaft Outer Diameter
15mm
Shaft Type
MALE 20 SPLINE
RPM
2800
Electrical Configuration
F2/F1/A
Ground
NEGATIVE
Operation Time
F1/F2/A
Weight (Kg)
6.7kg
Payment & Security
Your payment information is processed securely. We do not store credit card details nor have access to your credit card information.